How do you feel in your place?
The social and physical environment matters for mental health and psychological wellbeing in human populations. We all want to be happy in the places we live, but how can we do this? It's a complex issue involving many factors.
While we cannot measure happiness in a strictly scientific sense, there are other things we can reliably measure, like life satisfaction and one way of looking at this, is to question whether we can measure how emotions are influenced in such a place.
Our map-based questionnaire allows people to get involved in the process of collecting information related to their emotional experiences in relation to used spaces and links with the environment.
Provide an indication of the actual value of the areas based on the affective reactions towards qualities associated with the places.
Changing the way that people move home by giving them the facts about the local area around
Plan travel routes, search for places to visit or live, and showing places of interest or safe places of a city
Support city design and planning to integrate people perceptions to improve their quality of life and boost happiness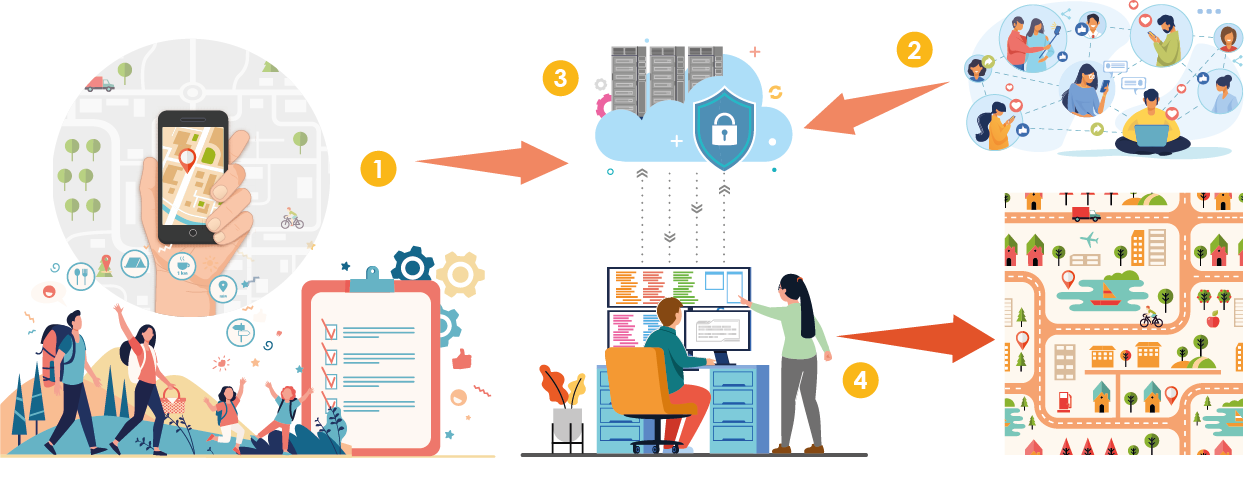 Understanding Place Attachment
Our online Questionnaire collect participants feedback focusing on the emotional sense of place embedded in the feeling, emotion and behaviour
.
Creating Value from Other Data
We incorporate other relevant data into the data analysis for better understanding of the significance and meaning of a place to the immediate users
Making Data Ready for Use
Data collected and sent to a data server within a cloud system that processes the information and provides conclusions through our experts.
Mapping People Best Locations
We analyse the data collected, aiming to visualise patterns in the participants' environmental perceptions by giving output maps of the attachment locations
Outdoor activities can help alleviate symptoms of Alzheimer's, dementia, stress, and depression, and improve cognitive function in those recently diagnosed with breast cancer.

People in neighbourhoods with higher levels of social cohesion experience lower rates of mental health problems than those in neighbourhoods with lower cohesion, independent of how deprived or affluent a neighbourhood is.
792 million people are affected by mental health issues worldwide. The total cost of mental ill health in England is estimated at £105 billion per year and responsible for 72 million working days lost and costs £34.9 billion each year.
Facts References:
Mooney, P., and P.L. Nicell. 1992. The Importance of Exterior Environment for Alzheimer Residents: Effective Care and Risk Management. Healthcare Management Forum 5, 2: 23-29
Cimprich, B., H. So, D.L. Ronis, and C. Trask. 2005. Pre-Treatment Factors Related to Cognitive Functioning in Women Newly Diagnosed with Breast Cancer. Psycho-Oncology 14, 1: 70-78.
Fone, D., White, J., Farewell, D., Kelly, M., John, G., Lloyd, K., … & Dunstan, F. (2014). Effect of neighbourhood deprivation and social cohesion on mental health inequality: A multilevel population-based longitudinal study. Psychological Medicine, 44(11), 2449–2460.
Mental Health Taskforce NE. The Five Year Forward View for Mental Health. 2016 [cited 2017 May 23]; Available from: england.nhs.uk
Davies SC. Annual Report of the Chief Medical Officer 2013, Public Mental Health Priorities: Investing in the Evidence [Internet]. 2014. Available from: gov.uk